The winners of the Luxembourg Art Prize
Lionel Sabatté, winner of the 2020 Luxembourg Art Prize
▸ Lionel Sabatté was born in Toulouse (France) in 1975. He lives and works in Paris (France) and Los Angeles (California, USA).

The artists who inspire him are Alberto Giacometti, Pierre Soulages, Thomas Houseago and Paul Rebeyrolle.

He has won the sum of €50,000 to be paid into his bank account, and congratulations from the museum and the members of the jury. He is free to use this money as he sees fit.
The realm of the living as well as the transformations of matter due to the passage of time lie at the heart of the artist's work. For several years, he has been collecting materials that carry with them the trace of lived experience--dust, ash, charcoal, dead skin, tree stumps, and so on. These elements are unexpectedly combined and the works thus created carry within them both a delicacy and a "disturbing strangeness", thus giving life to a hybrid bestiary in which creatures from the abyssal depths rub shoulders with small birds from oxidized islands, bears, wolves, emus, and owls, as well as unicorns and more.

Simultaneously a painter, a drawer and a sculptor, Lionel Sabatté tries to make all of his works dialogue in permanent interconnection. In short, his work on the mineral, the animal, and the organic gives rise to poetic, sensitive, troubling works that participate in a global reflection on our condition and the place we occupy in our environment.

"Sabatté's activist recycling is not just about ecological and environmental concerns. We can risk a saving "leap". This recycling testifies, perhaps, to the interplay of worries about the survival of the living, and to the expectation of a jolt to the hoped-for escape from an implacable existential condition that is now unformulable in the simply "humanist terms" of the post-war period. Collecting "dust sheep" at the Châtelet metro station in Paris, regluing dead skin from pedicures together so as to graft them to scrap metal, wood, cement, and dead trees, recalls the ragpickers of yesteryear and the way children and women comb through the piles and mountains of rubbish in the wild dumps of Africa and Asia for material to consume, trade, and sell in order to survive. The ragpicker mentioned by Baudelaire--that "most provocative figure of human misery" according to Benjamin--is a figure who collects everything: "old papers, corks, bones, cardboard trimmings, nails, broken glass, the dead cats and dogs that have been thrown on the public highway in violation of ordinances, hair--in a word, anything that can be sold." In the heaps of garbage, the rubbish, the residue, the refuse, Victor Hugo detected "the meadow in bloom", the green grass, life. Sabatté's works run through all these registers and make us hear, as an echo, the following note by Benjamin comparing the writer Siegfried Kracauer to this figure of the Lumpenproletariat ("proletariat in rags"): "A ragpicker, in the early morning--in the dawn of the day of the revolution". This is how we have to view such a back-and-forth between nature and culture which moves away from all the thought on this central theme of Western thought while simultaneously agreeing to approach it."— Bernard Ceysson, 2019.
Selected work:
"Red fortune and sub cutaneous," 2019 – Oil on canvas. 130 x 130 cm (51 x 51 in.)

Description:
"My oil and acrylic canvases open a dialogue with the other mediums within which my plastic universe unfolds all its richness. I use colors that have melted into one another and I attach paramount importance to the aqueous dimension that gives the work its organic, mineral aspect. Using vivid, contrasting touches, I echo the traces of time, perpetual natural changes and the movement inherent in all life. While patterns can emerge from these mystical paintings, which approach an aesthetic of chaos (in Greek mythology, "Chaos" is a primordial entity from which the universe is born), the imagination is left free for the spectator to discern something in each canvas--sometimes an eye, sometimes a bird, a jellyfish, a landscape seen from the sky, or even the sky itself. »
Jenny Ymker
Winner of the 2019 Luxembourg Art Prize
▸ Jenny Ymker was born in 1969 in the Netherlands. She is 50 years old. She lives in Tilburg (Netherlands).

The artists who inspire her include Cindy Sherman, Francesca Woodman, Grayson Perry and Louise Bourgeois.

This was her third submission to the Luxembourg Art Prize.

She has won the sum of €50,000 to be paid into his bank account, and congratulations from the museum and the members of the jury. She is free to use this money as he sees fit.
"The world of the imagination can feel more like reality than reality itself"

Since 2013 my work has consisted of photos that I have woven into Gobelins.
Originally, the term 'Gobelin' could only be used for tapestries that were woven in the 'Manufacture des Gobelins' in Paris. Nowadays it is used as a general reference to woven tapestries. I use the term Gobelin because I like the sound of the word, but particularly because it refers to history.

Originally, Gobelins were intended as insulation for the cold inner walls of castles. But at a very early stage, the ornamental function of these tapestries became very important too. Traditionally, stories are depicted on Gobelins. I use the modern form of this ancient weaving technique to represent today's stories.

In my work I depict situations with the intention of evoking stories in the spectators. I always try not to be too literal, so spectators have space to discover their own stories. I find evoking stories important because I think our ability to tell them is an essential part of our being. I worked in health care for a while. There, it became clear to me that if a person is no longer able to tell about an event, however small, this person will gradually loose his or her feeling of significance, of 'mattering'.

When I have an idea for a new work I try to find a suitable location and the right clothes, shoes and props.
On site, I stage the entire situation and then make photos using a self-timer or assistant.
One theme in the work is alienation. I consciously choose dresses, bags, shoes from the past. With these, I want to reinforce the feeling of alienation from the environment. This also informed my decision to have the photo woven instead of printed.

My works are in a way personal performances which I register in Photographs.
In all my works I am the model myself. Of course this is practical because I am always available. But for me, it is also an essential part of the making process, to create a certain 'world' and be part of that world myself at that moment, to be in that situation for a moment.

When I have a good photo, I have it turned into a weaving pattern. Together with the weaver I choose the right colours of wool and cotton. Next, a couple of samples are woven. In the basis of these samples I can still make changes and adjustments, after which the definitive Gobelin is woven.
Depending on the image I determine if the Gobelin must be woven in colour or in black/grey/white. In some Gobelins I then embroider parts of the image to emphasize certain parts that support the theme.

The Gobelin weaving technique and embroidery appeal to me because I love the maze of coloured threads that together form an image.
I use the attractiveness of the material to move spectators closer until they see that it is not always pretty what I depict.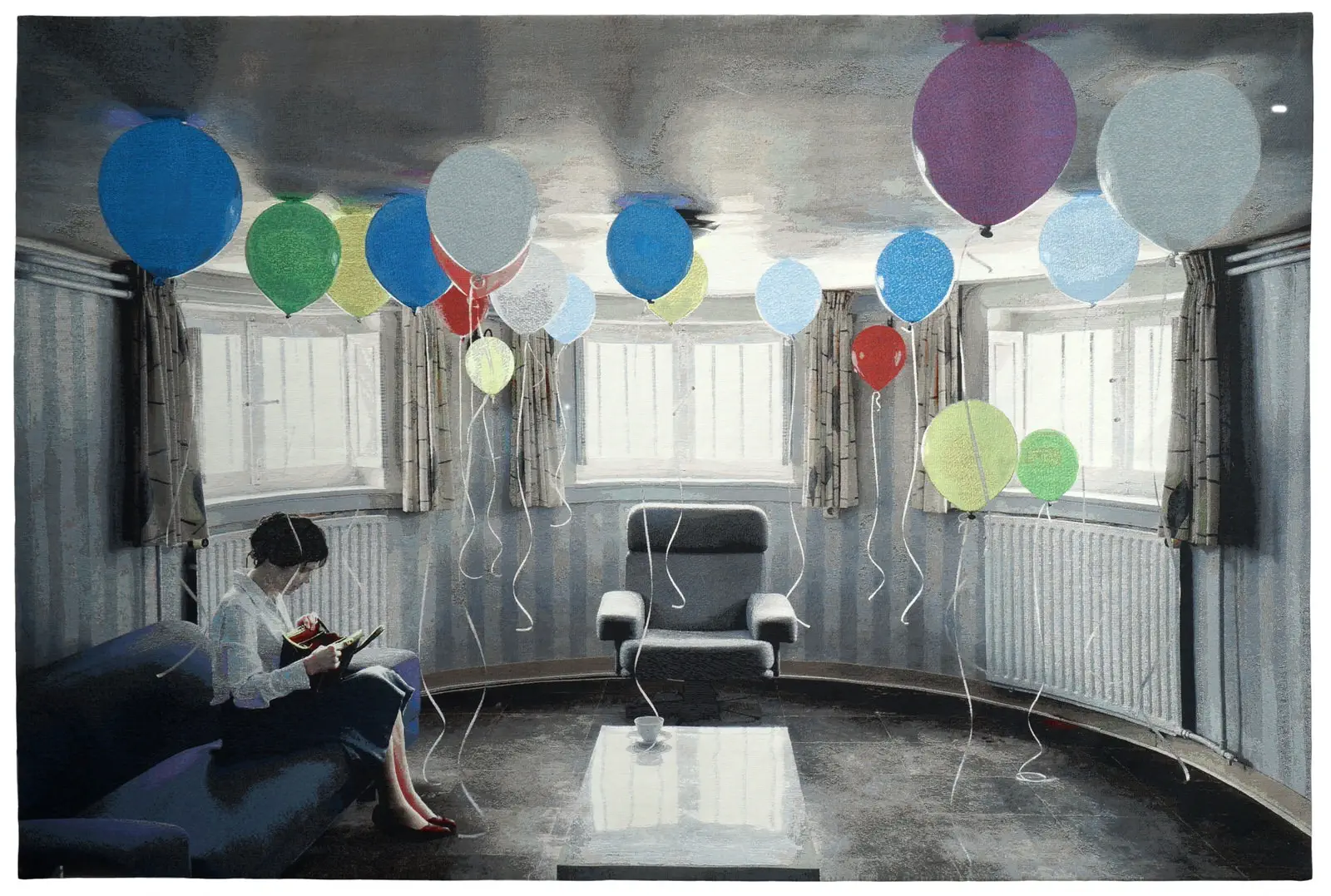 Selected work:
"Vervlogen (Bygone)", 2018, tapestry woven in the Gobelins style, wool and cotton, 193 x 291 cm (76 x 114 in.)

Description:
"This tapestry talks about letting go."
Ludovic Thiriez
Winner of the 2018 Luxembourg Art Prize
▸ Ludovic Thiriez was born in 1984 in France. He lives in Hungary with his wife and children.

The artists who inspire him include Adrian Ghenie, Albert Oehlen, Cecily Brown, Gerhard Richter, Marlene Dumas, Maurizio Cattelan, Michael Borremans, Neo Rauch, and Peter Doig.

This was his first time participating in the Luxembourg Art Prize.

He has won the sum of €25,000 to be paid into his bank account, and congratulations from the museum and the members of the jury. He is free to use this money as he sees fit.
His artistic approach:

Life is an accumulation of experiences and feelings. It was by starting from this idea that I found a process of creation in my painting. The idea is to superimpose different elements and styles to create a new balance.

I spent my childhood dreaming. My parents always told me that my head was in the clouds. Today, with a certain distance, I am able to draw on the imagination of my childhood and stories. My inspiration often comes from old photos or from my own shots.

It is not unusual for me to use embroidery and animals in my paintings. The embroidery evokes the transmission of knowledge between generations. In Hungary, where I am based, each region had its own patterns and styles. The quality of the embroidery present in any given house highlighted the skills and know-how of the woman living there. This know-how was passed from mother to daughter.

Animals are part of the imaginary world of children and are very present in fairytales. I use them as narrative symbols for my own stories; sometimes they become characters in their own right.

Childhood is a fabulous mirror for humanity where we find gentleness, play, violence, tenderness, vice, questions, love, etc. A raw material that time shapes. The child slowly becomes aware of his Humanity with great purity and naivety. It is this moment that I try to capture in my work and my research. I observe this transition, choose my moments, and relocate my subjects to transcribe a sensation. Michael Borremans, a contemporary painter I admire, said about one of his exhibitions that the less explanation a painting needs, the better it is. When I "install" different elements on a canvas, I always try to keep this idea in mind. It is both very difficult and exciting to create, to figure out when the story must stop and when it should continue. Sometimes my paintings fill up naturally and sometimes they remain very spare, depending on the feeling that emerges as I paint.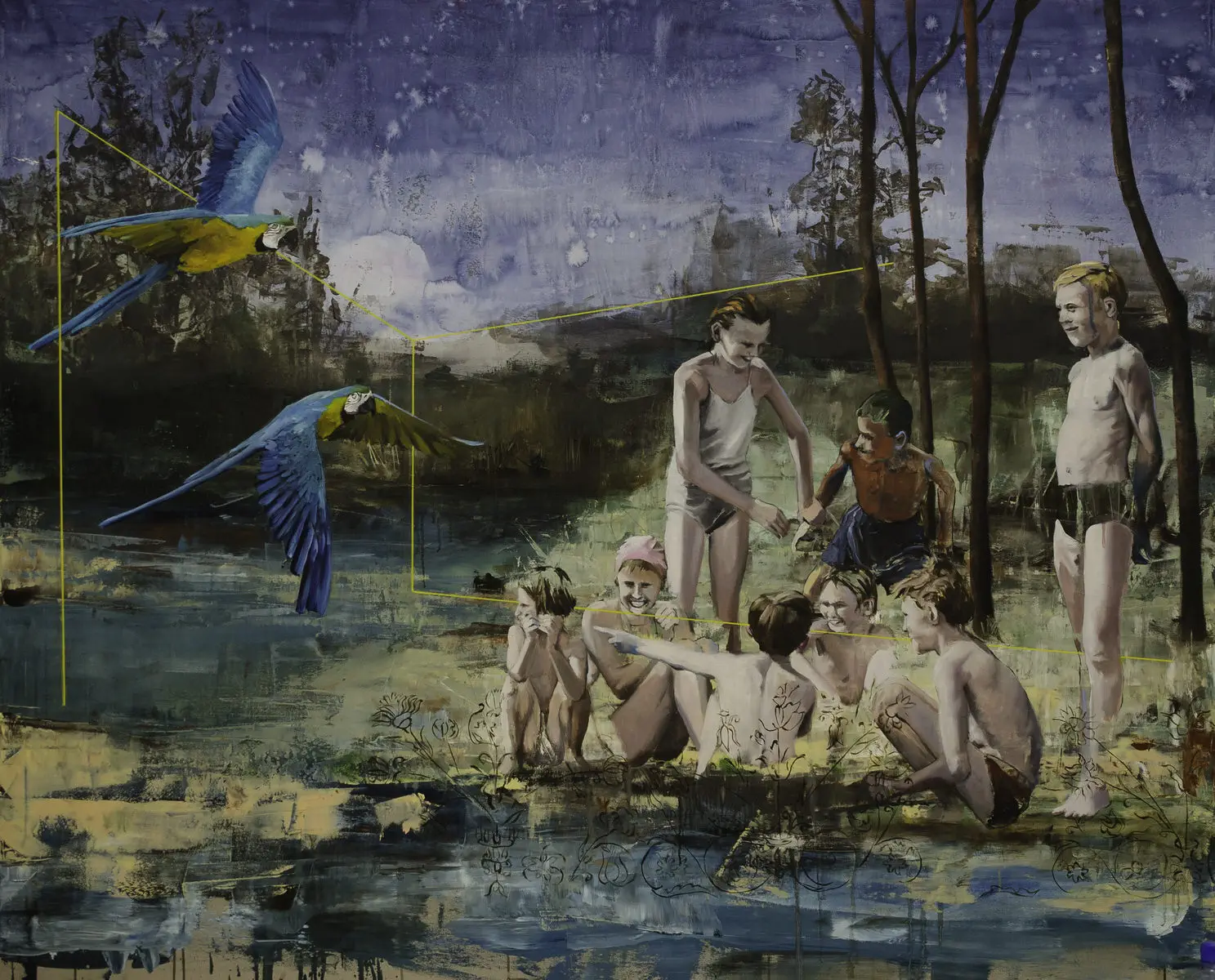 Selected work:
"Le garçon du voisinage" ("The boy from the neighborhood"), Acrylic, ink, oil on linen, 140 x 170 cm

Description:
We see a group of children smiling and having fun, laughing. There is also this one little boy who is treated in a more abstract way—"the neighbor." He looks more worried and on his guard. Another child points to something outside the canvas, something that may also have scared the birds. And then this yellow line, a sketch, a temporary geometric construction, which stands in the middle of the swamp as if in a dream that escapes our grasp, shifting to become something else.
Jarik Jongman
Winner of the 2017 Luxembourg Art Prize
▸ Jarik Jongman was born in 1962 in Amsterdam in the Netherlands. He lives and works in Amsterdam. The artists who inspire him are Adrian Ghenie, Anselm Kiefer and Peter Doig. He works as a waiter.

Second entry to the Luxembourg Art Prize (2016, 2017)

He has won the sum of €25,000 to be paid into his bank account, and congratulations from the museum and the members of the jury. He is free to use this money as he sees fit.
In his work over the years, the artist has been fascinated by the notions of fleetingness, ontology, religion and history. Many of his works involve architecture in one form or another: motel rooms, waiting rooms and dilapidated buildings, often lacking any human presence, frequently evoking feelings of nostalgia and contemplation, with a definite touch of the miraculous or the supernatural.

In his latest work, conceived especially for the Luxembourg Art Prize, he concentrates on what he sees as the primary tragic development of our time. As with all paradigm shifts, the foundations were laid several decades ago and we are watching the unfolding events with an increasing sense of helplessness.

Socio-economic pressure, immigration, the refugee crisis, international terrorism and climate change are causing anxiety at global level. Underlying the feeling of fear and lack of control provoked by these problems, our post-truth society is emerging, incarnated like nothing else by Donald Trump, the President of the United States of America.

The artist has used modernism, or more specifically modernist architecture, as a starting point for the idea that it represented a utopian spirit, conveying ideal visions of human life and society and a belief in progress. Modernism was very preoccupied with reconciling a new architectural form with social reform, creating a more open and transparent society that believes in human perfectibility in a world without God.

The rise to power of Joseph Stalin led the Soviet government to reject modernism for what it claimed was its elitism. The Nazi government in Germany saw modernism as narcissistic and absurd, together with "the Jews" and "the Negroes". The Nazis exhibited modernist paintings alongside works by mentally ill patients in an exhibition entitled "Degenerate Art". Accusations of "formalism" could end a career, or worse. This is why many modernists in the post-war generation considered themselves the most important bulwark against totalitarianism, the "canary in the coalmine".

The paintings presented by the artist to the Luxembourg Art Prize explore these ideas. The goal is to convey a feeling of imminence, and fire plays an important role. Fire is the ancient symbol of transformation, a metaphysical constant in the world.

He paints these buildings and villas whose significance has been enlarged, moving from simple functionality to an iconic, symbolic status, as sublime, transcendental structures, coveted and threatened by impenetrable, menacing forces.

The feeling of menace is palpable; impenetrable, threatening forces invade this symbol of modernity and illumination.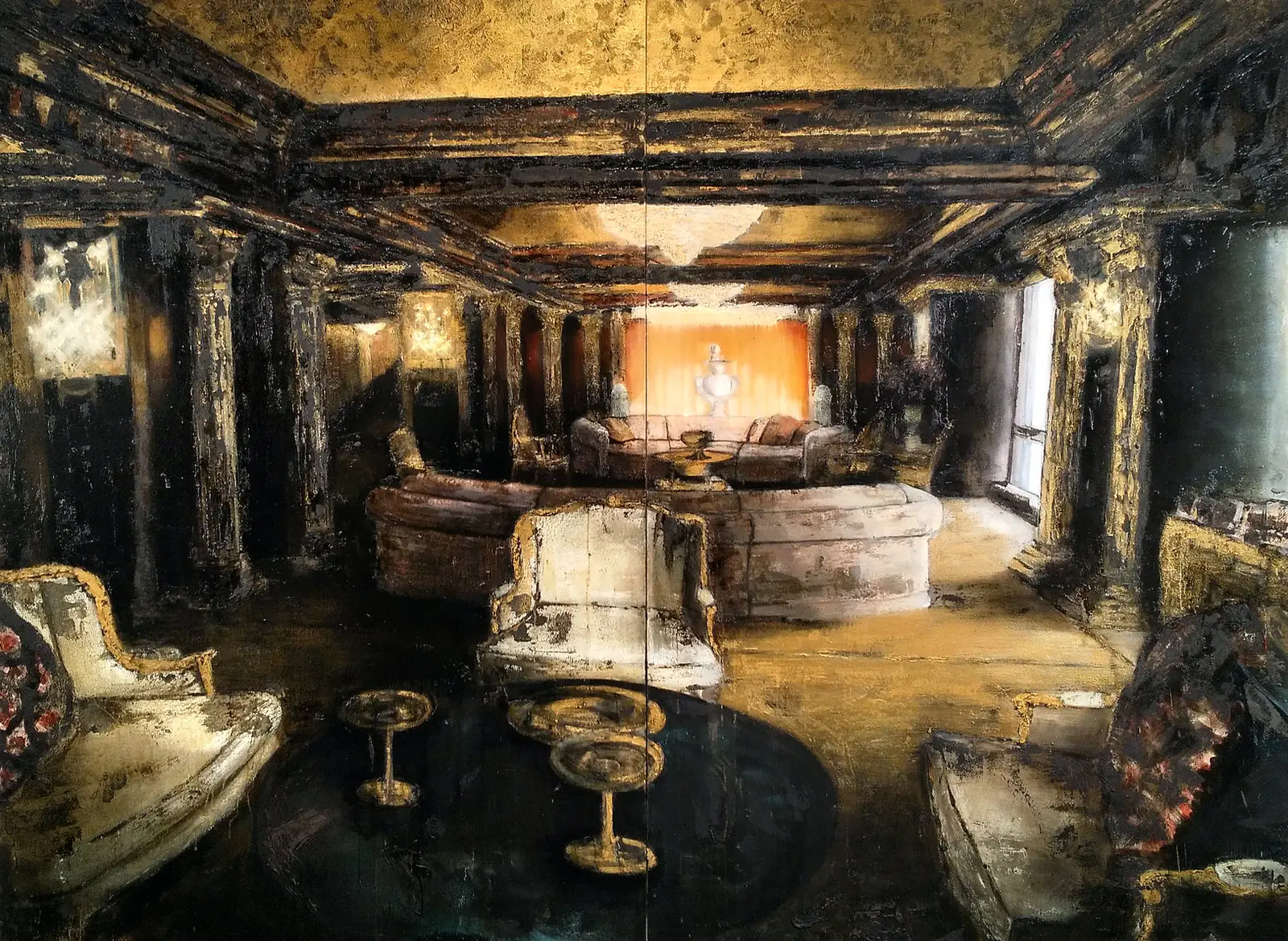 "It's Gonna be Great, it's Gonna be Fantastic" - 2017 - Oil on panels - 180 x 244 cm
John Haverty
Winner of the 2016 Luxembourg Art Prize
▸ John Haverty was born in 1986 in Boston, USA. He is American and lives in Massachusetts, USA. The artists who inspire him are Dieric Bouts, Hieronymus Bosch and Salvador Dali. He works for an airline.

He has won the sum of €25,000 to be paid into his bank account, and congratulations from the museum and the members of the jury. He is free to use this money as he sees fit.
Similar to shamanism, the painting of John Haverty bears within it a highly visible introspective force. "Each painting is a personal journey for me". Attached to the retro albums of the 1960s-80s and to skateboard and hot-rod culture, the artist combines his interests with his travel, "but I prefer everyone to look at my art for themselves, develop their own opinion and bring their own imagery to my work."
Whimsical, strange, magical, beautiful or ugly, it all depends. As John Haverty explains, "I get lost when I work. I'm like a curious child in a land of psychedelic wonders." His pens can spend hours on details and lines that hypnotise him. Each line or dot is important to him, making his work a complex painting. But the idea guiding him is rarely complete: "Every day is different. The creative process is full of unknowns. As every day is different, every mood is different." Later, contemplating the finished piece, he returns to the feelings and thoughts that passed through him during the journey. "I have photos that show the reality of my past. But my paintings show the feelings of my past."
That's how his monumental project Gangrene emerged, a giant painting begun in 2013. "My art, like the infection, is a collage that continues to grow organically. Gangrene presents an ambiguous visual feast that sheds light on problems vexing society…"
Gangrene is a visually violent work that grips the eye. Most of the paintings making up the fresco were created in the artist's twenties, an unsettling period full of frustration for many people, and his paintings radiate many of his feelings. But John Haverty does not consider himself an angry person. The reasons for this violence lie elsewhere: "As a teenager, I watched a lot of horror films. The thrill of being terrified and a love of the classic monsters are mixed with my journeys, and influence me a lot. My beach house in Cape Cod is pretty sinister, and sometimes I feel as if I am in the presence of spirits. I think all that interests me in a way."
With his monumental work, the painter produces immersive works that draw the viewer in both psychologically and physically. "I find it hard to explain my paintings in words. For me, the interest is visual. My goal is to grab the viewer's attention for more than a few seconds."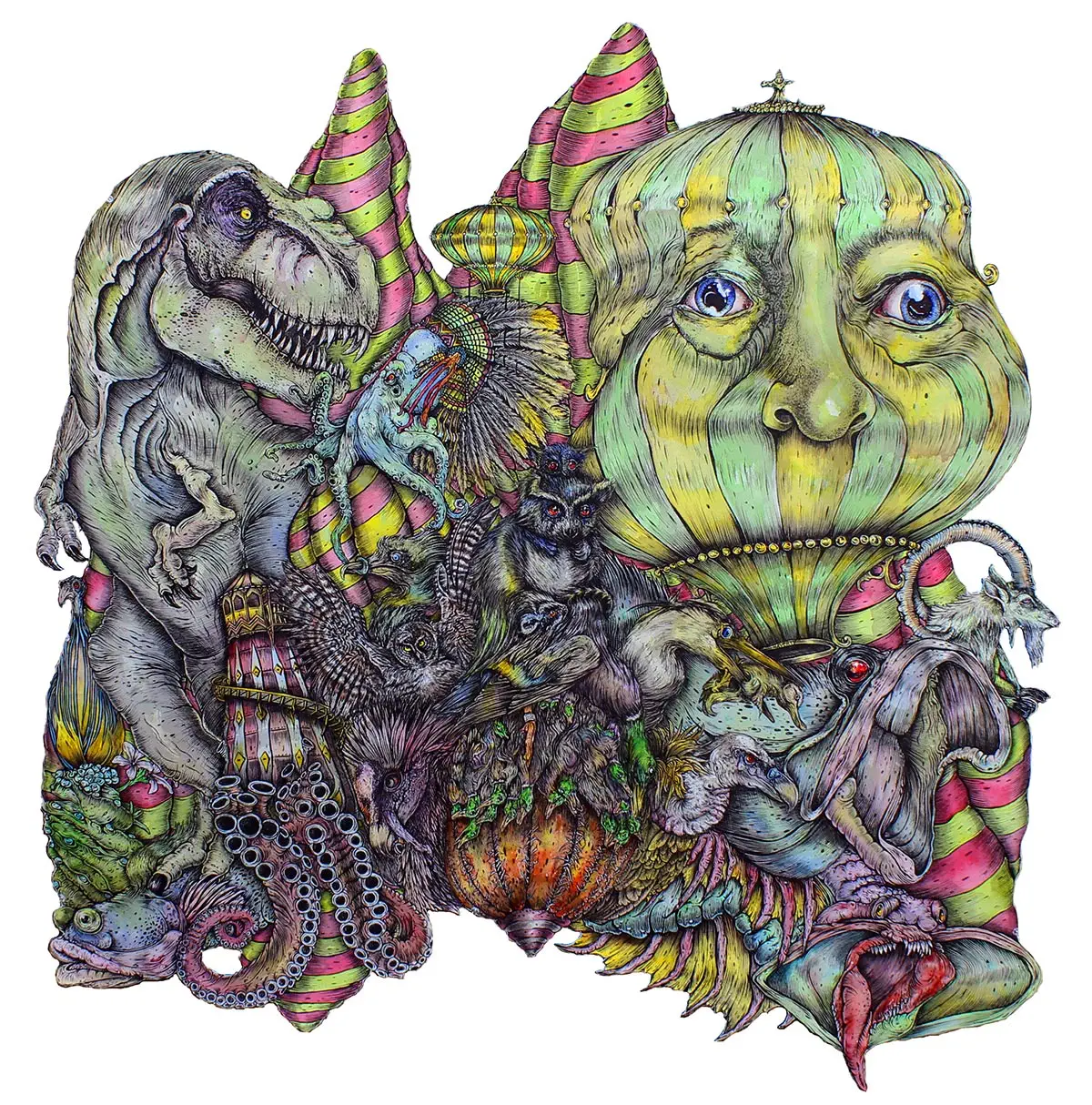 "Circus", 2015, "Gangrene" series, ink and watercolour on paper, 120 x 120 cm, unique
Albert Janzen
Winner of the 2015 Luxembourg Art Prize
▹ Albert Janzen was born in 1989 in Sibirskij, Russia. He is 26. German by nationality, he lives in Amsterdam in the Netherlands. The artists who inspire him include Gerhard Richter, Cy Twombly, Zao Wou-Ki and Antonio Murado.

He has won the sum of €10,000 to be paid into his bank account, and congratulations from the museum and the members of the jury. He is free to use this money as he sees fit.
I examine the fundamental aspects of images, i.e. line. Line is the most intuitive means of perceiving and understanding our environment. Recognising visual structures depends on the recognition of line. This dependence is due to the absolute simplicity of lines. They are so simple that nothing can be conceived of without them. Everything can be constructed with lines, but nothing constructs lines. The only candidate for a structure underlying line is the point. As points are important elements in my drawings, I consider them as fundamental in the same way. The extreme simplicity of line provides an independent aesthetic. It does not represent an idea, as it is constructed from nothing other than itself. To reveal its aesthetic power, line has to be its own system of reference. I draw lines not to construct something, but just to draw lines. The shapes and motifs that emerge in my drawings have no other intention than to reveal the movements of lines. Looking at my lines, one is confronted with an independent entity.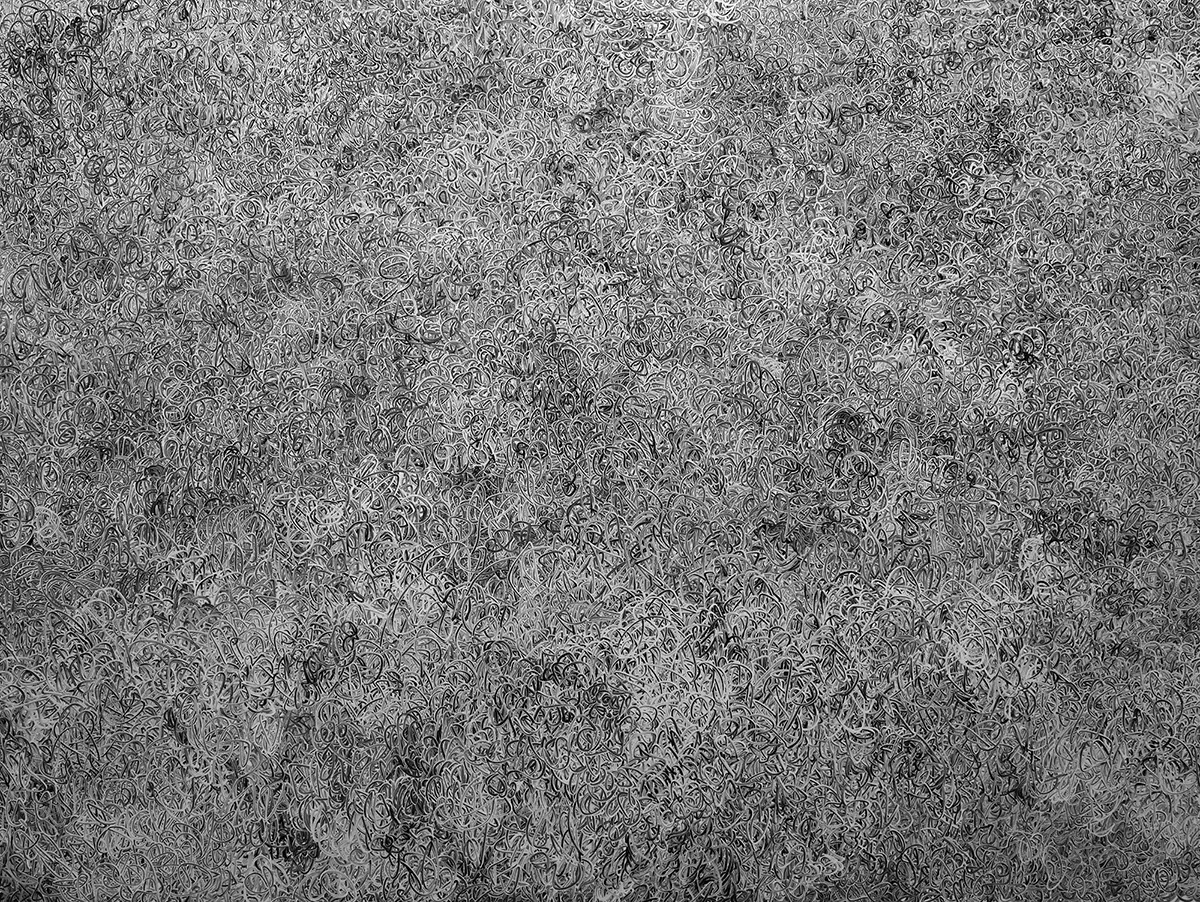 Untitled, 2015. Five black pens on a whiteboard (ephemeral work photographed before its destruction). Print on Forex. Single work. Edition 1/1. 150 x 200 cm